Oh boy, do I have a shit ton of recipes for y'all today and with good reason. You see, I am a self-proclaimed "feeder". By this I mean that I express love and affection through the making and baking of goodies & vittles, most often in the form of bounteous feasts. No doubt my friends, family, and housemates would all attest to this declaration's veracity if asked. As of yesterday, I am able to add a doggy to this list of "Lauren's Feeding Propensity Beneficiaries" or "FPB's" as they are called in some circles. For this past Wednesday was a very special pup's 91st birthday, and he has been dining on homemade dog biscuits ever since. Let me not forget to mention this canine's studlicious owner, the dreamiest of dreamboats, the one and only Mike Cole, who also celebrated a birthday on this 22nd of September, 2010 (though judging by personal experience and what modern medicine has accepted as the official age when men hit their sexual peak, he just turned 18)......
As I was saying, when I cook for man (or man's best friend) I usually begin by planning a menu. Menu planning, how do I love thee, let me count the ways!
Menu planning=sweet list making bliss. You provide me with the opportunity to make lists, oh joy! Recipe lists, shopping lists, ingredient lists, the

list

goes on! Without list-making in my life, I become listless.

Menu planning=the broadening of my cooking horizons. Learning experience! Menu planning allows for beaucoup experimentation: trying new recipes, new cooking techniques, new flavor pairings.

Menu planning=library time well spent.

It gives me an excuse to visit the library more than my routine once a day (as if I needed to justify this).
Three. There were three marinades featured on the Birthday menu...
Mike Cole's 18th Birthday Chicken Wings
A few quick words on prep. F
irst, pay a visit to
your favorite butcher and purchase 5 lbs of wings. Next, go home and put on "Happy Gilmore" (I am including this part because it's what I did and I don't want to hear any grief about how yer wings didn't come out like mine, so I'm mentioning it in case it turns out to be an important step in the outcome of this meal). Separate each chicken wing at the joints, which gives you 3 sections per wing. In Buffalo chicken lingo, these are called the "tip, the "flat", & my personal fave, the "drum".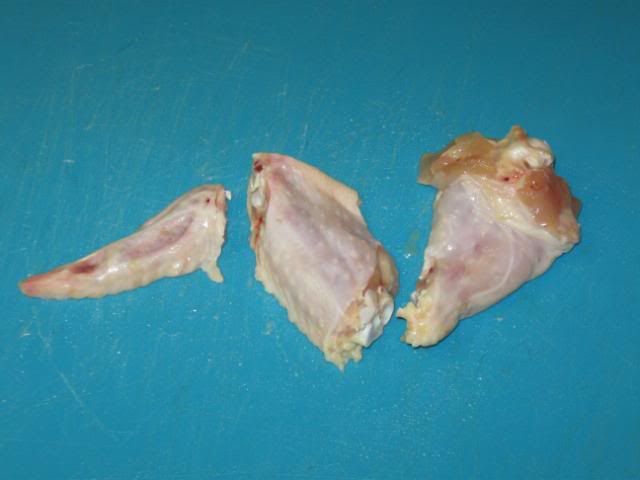 I did this by using my shiv a sharp
kitchen knife to cut out the the piece of skin which attaches the drum to the flat, then simply slicing through the two joints and discarding the tip (though you could reserve these to make a stock). Finally,
I prepared 3 marinades, into which I dumped a baker's dozen of wings each. I think it goes without saying that the longer you marinate, the more delicious the wings.
Spicy Chicken Wings
a
dapted from
Darina Allen's Ballymaloe Cooking School Cookbook
1 T. freshly ground cumin seeds
1 T. paprika
1 T. turmeric
1 t. cayenne
1 t. freshly ground black pepper
2 t. salt
4 cloves garlic, minced
5 T. freshly squeezed lemon juice
3 T. sunflower oil
Mix everything together and sensually rub all over wings.



Ginger & Sesame Wings


adapted from

Darina Allen's Ballymaloe Cooking School Cookbook
2 oz (1/4 cup) honey
2 oz (1/4 cup) red wine (I used boxed cuz that's how I roll)
2 oz (1/4 cup) soy sauce
3 t. ginger, peeled & freshly grated
2 oz (1/2 cup) untoasted sesame seeds
Mix everything together but the sesame seeds. Boil 2-3 minutes in a small saucepan, add the seeds & let cool. Dump wings in.
Wasabi & Mustard Wings
an LCM original recipe
4 squirts fake wasabi sauce
2 squirts spicy brown mustard
a buncha shakes of Mike Cole's homemade hot sauce
one small finely minced onion
Mix everything together and once again sensually rub all over wings.
And let us not forget the

Blue Cheese

Dressing, one of the main reasons for eating wings in the first place. In general, it's safe to say that store-bought salad dressings are total nasty crap. If you were unaware of this, read your labels. Barf. Make your own, it's easy, it's worth it, and Mike Cole will thank you for it.
Blue Cheese Dressin'
adapted from
Darina Allen's Ballymaloe Cooking School Cookbook
1/2 cup olive oil
5 t. freshly squeezed lemon juice
2 t. honey
5 T. gorgonzola or other blue cheese, crumbled
1/2 cup sour cream
freshly ground black pepper
Whisk everything together, season and adjust to taste.
Now, you'd think the final piece to the chicken wing menu puzzle would traditionally be celery sticks. But I think celery sticks taste like butt, plus I wanted to make this meal fancy-like, so I chose to make a slaw instead. It offers the same things as celery (i.e. crispiness and vitamins) and a whole lot more (prettiness, fanciness, even more vitamins).
Mixed Vegetable Slaw
adapted from
The Frog Commisary Cookbook
3/4 lb cabbage
1/4 cup vinegar of your choosing
2 t. sugar
2 t. salt
2 1/4 t. pepper
1/2 cup sunflower oil
3 carrots, peeled & grated
1 bell pepper, cut into thin strips
2 tomatoes, cut into 6 wedges each
Thinly slice the cabbage and, if necessary, soak briefly in ice water to crisp it (in which case, drain well, wrap in dish towel to dry, & refrigerate). Whisk together the vinegar & seasonings, then whisk in the oil. Combine cabbage, carrots, & peppers & toss with the dressing. Garnish with tomato wedges & serve.
Another good thing to keep in mind when planning a menu is pleasing the specific people you are planning it for. This is easy: make their favorite. So, when choosing what kind of birthday cake to prepare for Mike Cole (in addition to last weekend's beefcake), I settled on cheesecake, specifically Cappucino Fudge Cheesecake (cuz, as I quickly found out when seeking out a recipe, there's like 5 bajillion kinds of cheesecakes). Don't be put off by the fact that you first must make Homemade Chocolate Wafers, as they are an ingredient in the crust, or by the
unquestionably lengthy directions. This cake is quite enjoyable and simple to make. Just follow all the steps and have fun with it. Plus, it don't hurt to keep in mind how much you love the person you are making it for.
Cappuccino Fudge Cheesecake
Adapted from
SmittenKitchen
, who adapted it from
Bon Appetit, February 2002
Deb from Smitten Kitchen emphasizes the intense nature of this cake, commenting on how Bon Appetit claims it serves 12, but she thinks it should really serve 30, it's that freakin' bad ass. She also adjusts the original to fit a 9-inch springform pan by keeping the crust, ganache, and sour cream topping amounts the same while only making 3/4 of the cheesecake filling. I decided that a 9-inch cake capable of serving 30 would be a tad too much for just the 2 of us (even while keeping in mind that Mike Cole's eating abilities are awesome and enviable). So I made mine in a 6-inch springform, cutting the ingredient quantities down by roughly one third). Below is Deb's 9" version, with some tweakage by moi. Check out
the original
if you're brave enough to take on the 10" version.
Crust

9 oz of
homemade chocolate wafers *(recipe follows)

6 oz bittersweet or semisweet chocolate, coarsely chopped
1/2 cup (packed) dark brown sugar
1/8 t. ground nutmeg
7 T hot melted salted butter
Ganache

1 1/2 cups heavy whipping cream
20 oz bittersweet or semisweet chocolate, chopped
1/4 cup Kahlúa or other coffee-flavored liqueur
Filling

3 8-oz packages cream cheese, room temperature
1 cup sugar
1 1/2 T. all-purpose flour
1 1/2 T. Tia Maria
1 1/2 T. instant espresso powder
1 1/2 T. ground whole espresso coffee beans (medium-coarse grind)
2 t. vanilla extract
1 1/2 t. molasses
3 large eggs
Topping

1 1/2 cups sour cream
1/3 cup sugar
2 teaspoons vanilla extract
A handful of chocolate covered espresso beans (optional)
Make crust:
Finely grind cookies, chopped chocolate, brown sugar, and nutmeg in processor. Add butter and process until crumbs begin to stick together, scraping down bowl occasionally, about 1 minute. Transfer crumbs to 9-inch-diameter springform pan with 3-inch-high sides. Wrap plastic wrap around fingers and press crumb mixture firmly up sides to within 1/2 inch of top edge, then over bottom of pan.
Make ganache:
Bring cream to simmer in large saucepan. Remove from heat; add chocolate and Kahlúa. Whisk until chocolate is melted and ganache is smooth. Pour 2 cups ganache over bottom of crust. Freeze until ganache layer is firm, about 30 minutes. Reserve remaining ganache; cover and let stand at room temperature to use later for decorating.
Make filling:
Position rack in middle of oven and preheat to 350°F. Beat cream cheese and sugar in large bowl until blended. Scrape down bowl, making sure you get to the bottom, where little pockets of unmixed cream cheese love to hide. Beat in flour. Stir Tia Maria, espresso powder, ground coffee, vanilla, and molasses in small bowl until instant coffee dissolves; beat into cream cheese mixture. Beat in eggs one at a time, scraping down sides of bowl between each addition.
Pour filling over cold ganache in crust — it will go nearly all of the way to the top, don't panic. Place cheesecake on rimmed baking sheet. Bake until top is brown, puffed and cracked at edges, and the center two inches moves only slightly when pan is gently shaken, about one hour. Transfer cheesecake to rack. Cool 15 minutes while preparing topping (top of cheesecake will fall slightly, making room for topping). Maintain oven temperature.
Make topping:
Whisk sour cream, sugar, and vanilla in medium bowl to blend. Pour topping over hot cheesecake, spreading to cover filling completely. Bake until topping is set, about 10 to 15 minutes. Transfer cheesecake to rack. Refrigerate hot cheesecake on rack until cool, about three hours.
Run small sharp knife between crust and pan sides to loosen cake; release pan sides. Transfer cheesecake to platter. Spoon reserved ganache into pastry bag fitted with small star tip. If you'd like to make an approximation of the above decoration, pipe 6 diagonal lines atop cheesecake, spacing 1 inch apart. Repeat in opposite direction, making lattice. Pipe rosettes (or, uh, stars if you realize you do not have the energy nor inclination to practice rosette piping at that hour) of ganache around top edge of cake. Otherwise, have fun decorating freely.
Garnish with chocolate-covered espresso beans, if desired. Chill until lattice is firm, at least 6 hours.
Do ahead:
Cake is best made a day ahead, so the flavors have time to settle. The cake also takes enough time to make that it's best not to rush through it the day you want to serve it. It can be made up to four days ahead. Wrap loosely in foil, forming dome over lattice; keep chilled.
Sing Happy Birthday to Mike Cole & his pup. Let them eat cake.
Joco's 91st Birthday Dog Biscuits
1/2 cup lukewarm water
2 T. dry basil
1 1/2 cups b
eef broth
3 tablespoons honey
1 egg
5-6 cups whole wheat flour
Preheat oven to 350 ° F. In a large bowl, dissolve yeast in warm water. Stir in the basil, broth, honey, and egg. Gradually blend in flour, adding enough to form a stiff dough.
Transfer to a floured surface and knead until smooth (about 3-5 minutes). Shape the dough into a ball, and roll to 1/4" thick. Using a small bone-shaped cookie cutter, make biscuits! Transfer to ungreased baking sheets, spacing them about 1/4" apart. Gather up the scraps, roll out again, and cut additional biscuits.
Bake for 30 minutes. Remove from oven and turn over. Bake for an additional 15 minutes, or until lightly browned on both sides. Let cool overnight. This waiting time helps make the treats crispier and crunchier and 4 out of 5 doggies happier.
Makes several dozen small bones.
*Homemade Chocolate Wafers
Adapted from
Smitten Kitchen
who adapted it from
Alice Medrich's Pure Dessert
Makes 50 to 60 1 3/4-inch wafers.
1 1/2 cups (6.75 ounces) all-purpose flour
3/4 cup (2.4 ounces) unsweetened cocoa powder
1 cup plus 2 T. sugar
1/4 t. salt
1/4 t. baking soda
14 T. (1 3/4 sticks) salted butter, slightly softened
3 T. whole milk or yogurt
1 t.n pure vanilla extract
Combine the flour, cocoa, sugar, salt, and baking soda in the bowl of food processor and pulse several times to mix thoroughly. Cut the butter into about 12 chunks and add them to the bowl. Pulse several times. Combine the milk and vanilla in a small cup. With the processor running, add the milk mixture and continue to process until the mixture clumps around the blade or the sides of the bowl. Transfer the dough to a large bowl or a cutting board and knead a few times to make sure it is evenly blended.
Form the dough into a log about 14 inches long and 1 3/4 inches in diameter. Wrap the log in wax paper or foil and refrigerate until firm, at least one hour, or until needed.
Position the racks in the upper and lower thirds of the oven and preheat the oven to 350°F. Line the baking sheets with parchment paper. Cut the log of dough into slices a scant 1/4-inch thick (slice as thin as you can, and watch the baking time carefully, as it might be less) and place them 1 inch apart on the lined sheets (cookies will spread). Bake, rotating the baking sheet from top to bottom and back to front about halfway through baking, for a total of 12-15 minutes. The cookies will puff up and deflate; they are done about 1 1/2 minutes after they deflate.
Cool the cookies on the baking sheets on racks, or slide the parchment onto racks to cool completely. These cookies may be stored in an airtight container for up to 2 weeks or be frozen for up to 2 months.
These cookies should crisp as they cool.
Welp, that's all for now. I will most likely be posting the rest of the birthday meals (yes, there's more) in the coming week. For now, I'd just like to say Happy Birthday, Mike Cole & Happy Birthday, Joco. You've made me one lucky gal.